NEW LOOK FOR THE 2024 FS 450
LATEST EVOLUTION OF THE PREMIUM SUPERMOTO RACER DELIVERS UNRIVALLED PERFORMANCE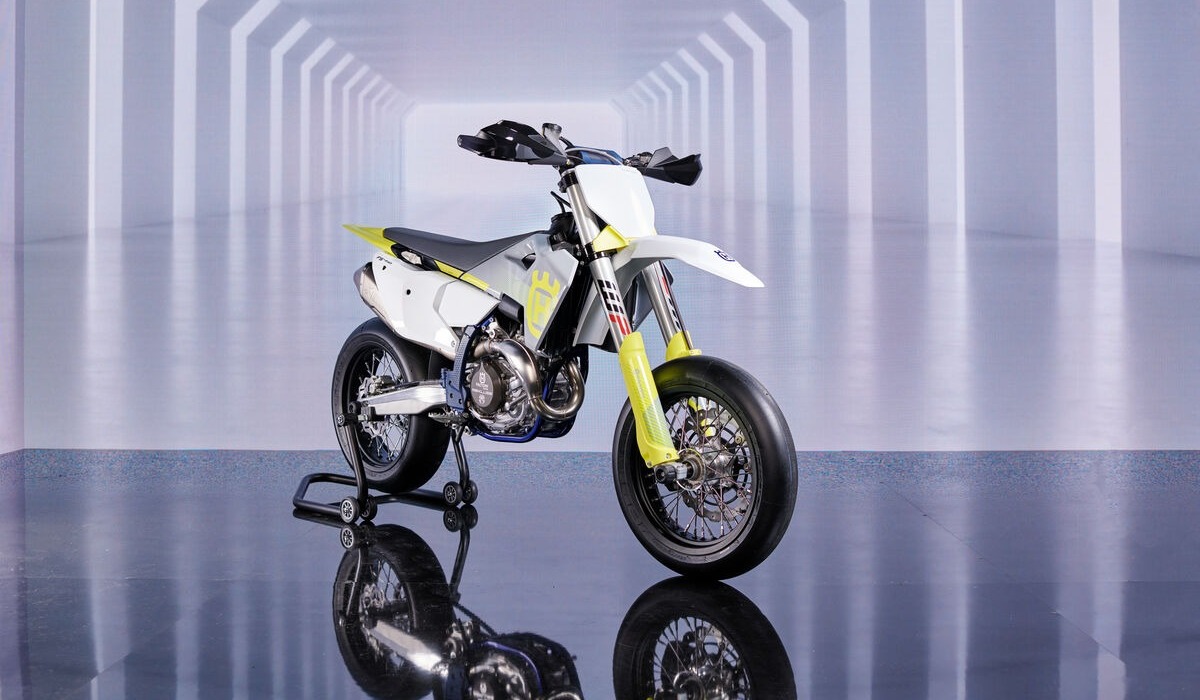 Enhanced with a stunning new look for 2024, Husqvarna Motorcycles' FS 450 continues to set the standard for supermoto racing machinery. Carefully refined and expertly crafted with competition-focused components to ensure outstanding performance, the FS 450 is a highly capable short circuit racer. The machine features a new high grip seat cover and white, grey, and yellow graphics for a truly distinctive appearance.
Powered by a proven 450cc SOHC 4-stroke engine, the characteristics of the FS 450 can be fine-tuned by taking advantage of the easy-to-use handlebar-mounted Map Select Switch. The activation of Launch Control, Traction Control, and the innovative Quickshifter, for precise upshifts, can all be controlled, even under hard acceleration.
The hydro-formed chromium molybdenum frame ensures the highest levels of rider feedback with a polyamide-reinforced aluminium subframe aiding handling and ensuring comfort. With its engine positioned inside the frame to enhance mass centralisation, and equipped with the latest WP suspension, the FS 450 delivers an exceptional on-track experience for riders of all abilities.
Assembled skilfully with quality, race-tested hardware including Alpina wheels, a Suter anti-hopping clutch, and high performance Brembo brakes, the FS 450 is built for racing and is unquestionably the most powerful, best handling, and most complete supermoto machine on the market today.
2024 Technical Highlights
New grey and yellow graphics create a distinctive look
New high-grip seat cover for improved control under hard acceleration
Ergonomic bodywork for unrestricted movement on the motorcycle
Hydro-formed chromium molybdenum frame designed to improve anti-squat behaviour
Proven SOHC engine provides class-leading performance and low weight
Quickshifter ensures smooth and precise upshifting
High-performance Brembo hydraulic clutch system
Aluminium-polyamide hybrid subframe construction provides specifically calculated rigidity and advanced durability
WP XACT 48 mm front fork with AER technology offers progressive end-of-stroke damping
WP XACT rear shock features a CFD-optimised main piston and tool-free adjusters
Multifunctional Map Select Switch, which also activates the Quickshifter, Traction, and Launch Control
Premium-quality ProTaper handlebar
Electric starter powered by a lightweight Li-Ion 2.0 Ah battery
A concise selection of high-quality Technical Accessories is now available from Husqvarna Motorcycles dealerships, which allows all riders to customise their FS 450. Each component is designed to enhance on-track performance, reduce weight, or add durability to this exceptional supermoto machine.
For enhanced rider safety and unrestricted performance, a premium collection of supermoto-specific Functional Apparel combines innovative technical features for improved comfort, protection, and style.