TE 300 Pro 2024
£11,449.00
Model Description
Enhanced with multiple Technical Accessories to unlock further performance and boost durability, the TE 300 Pro Series makes hard enduro easy. A highly competitive machine in its standard form, the new model is equipped with a competition-focused list of upgrades all replied upon by Husqvarna Factory Racing's Billy Bolt. Powered by an engine that is fuelled using Throttle Body Injection (TBI) for best-in-class rideability, the TE 300 Pro Series is complete with distinctive grey and white graphics to signify its exceptional offroad prowess.
Bodywork
A truly distinctive grey and white colour scheme dramatically sets the Pro model apart from the standard machine. For a long-lasting and scratch resistant finish, the graphics are applied to the ergonomic bodywork using an in-mold process, which embeds the design into the plastics.
Fueltank
A new and transparent 8.5 litre fuel tank fits neatly within the ergonomic bodywork. The fuel pump is new and features and integrated filter for improved supply, with the fuel line positioned to be less exposed and susceptible to any potential damage.
Footrest
Using state-of-the-art computational fluid dynamics, the new footrests are slightly larger to improve control. Additionally, the mounting position for the footrests on the new frame brings them inwards, which makes them less susceptible to catching on the ground through deep ruts.
Frame
The proven chromium molybdenum steel frame is refined for 2024. A new shock mounting, which is no longer connected to the main tube, significantly improves the anti-squat behaviour of the chassis. With optimised wall thickness in high stress areas improving reliability, the frame continues to offer advanced geometries and flex characteristics aimed at providing unparalleled rider feedback, energy absorption, and straight-line stability. The frame is completed with a premium black powder coating with redesigned standard frame protectors offering improved grip in all conditions. Additionally, the redesigned and robust skid plate offers exceptional frame and engine protection.
Hybrid subframe
Made from 60% polyamide and 40% aluminium, the new subframe offers exceptional strength and durability at a low overall weight of just 1.8 kg. The lower subframe spars and frame mounts are manufactured from cast aluminium for significantly improved reliability, with the upper section made from injection-molded polyamide to enable specific flex characteristics.
Swingarm
The new hollow die-cast aluminium swingarm is manufactured from a single piece of aluminium using an improved casting process for optimal stiffness and a 190 g weight reduction. In order to optimise and match the flex characteristics of the new frame, a new 22 mm rear axle is fitted. Additionally, the chain guard and chain slider have been completely redesigned for improved durability with the chain guard made with a rounder profile to prevent catching on external objects.~
WP XACT front forks
Each of Husqvarna Motorcycles' enduro machines are now equipped with WP XACT Closed Cartridge spring forks. Designed and developed for the rigours of enduro riding, the fork offers consistent performance thanks to the closed cartridge spring design, which optimises oil flow and prevents it from foaming. The addition of a new hydrostop, effective in the last 68 mm of travel, is highly effective on heavy landings to maintain maximum forward momentum. Additionally, riders can alter the compression and rebound settings quickly and easily using the hands-free adjusters found at the top and bottom of each fork leg.
WP XACT rear shock
The all-new WP XACT rear shock is 100 g lighter and 15 mm shorter than its predecessor, yet the travel remains unchanged at 300 mm. With rebound and both high- and low-speed compression adjustable by hand, setting changes can be achieved quickly and easily without tools. Complete with a CFD optimised shock piston, low friction SKF seals, and a revised linkage system, consistent damping, comfort, and traction is guaranteed.
Throttle body
The TE 300 Pro Series uses a newly developed 39 mm throttle body with dual injectors positioned to optimise flow for more immediate throttle response and improved rideability. Idle is controlled by the throttle valve, with one low load injector and one top feed injector ensuring maximum performance. Additionally, a new Throttle Position Sensor (TPS) offers improved cold starting with the throttle valve now pivoting on ball bearings for a smoother throttle action.
Engine
The 300cc 2-stroke engine in the TE 300 Pro Series is the flagship model of the Husqvarna Motorcycles enduro range. With the introduction of Throttle Body Injection (TBI) for 2024, the engine delivers improved torque while maintaining its high-revving two-stroke character. Designed to be more compact to reduce overall weight, a total saving of over 1.2 kg when compared to the previous generation underlines the ongoing development of this popular machine. Additionally, the shaft arrangements inside the TE 300 Pro Series engine are precisely positioned for greater mass centralisation while a counter balancer shaft reduces vibration.
Crankcase
Designed to be low in weight without sacrificing strength or reliability, the new crankcases are made using a high-pressure die cast production process to create a thin-wall design. To centralise engine mass, the shaft arrangements are precisely positioned to harness rotating masses at the ideal centre of gravity.
Cylinder
With the introduction of Throttle Body injection (TBI) on the TE 300 Pro Series, the 72 mm bore cylinder now features an innovative electronic exhaust control system, which manages the opening of the lateral exhaust ports after the main exhaust port opens for maximum power delivery. Together with a machined finish on the upper contour of the exhaust port that ensures accurate port timing, unrivalled engine performance is assured.
Oil tank
An electronic oil pump feeds vital 2-stroke oil into the engine. It is located just below the oil tank and feeds the oil via the throttle body, meaning the oil is only mixed with air at this stage. The pump is controlled by the EMS and delivers the optimal amount of oil according to the current RPM and engine load. The oil tank is connected to a filler hose which runs through the upper tube of the frame to a filler cap conveniently located for easy refills.
Exhaust
Tailored specifically for the TE 300 Pro Series using an innovative 3D design process, the header pipe ensures unrestricted performance and offers improved ground clearance to reduce the risk of impact damage out on the trail. The muffler also features an aluminium mounting bracket and advanced internal construction for excellent noise damping and weight saving.
GALFER brake discs
Ensuring the highest levels of braking performance in all conditions, GALFER brake discs are fitted front and rear. The stopping power of the floating wave front disc, which is shielded by the disc protector, is uncompromised. The rear disc features a solid design to prevent premature pad wear.
Brake disc protectors
For continued braking performance, disc protectors are fitted front and rear. State-of-the-art, injection molding technology is used to blend carbon fibre and plastic to create a lightweight front disc guard that features an integrated spacer for simplified wheel changes. At the rear, a CNC-machined aluminium guard designed for extreme enduro deflects impacts and allows riders to focus on mastering technical terrain.
Supersprox rear sprocket
Built for the extreme. The Supersprox Stealth Sprocket features an aluminium centre section to reduce unsprung weight while a ring of steel teeth ensures maximum durability. Forged, stainless steel rivets connect the two parts together for a maximum reliability with the unique construction extending the service life of the entire drivetrain.
Skid plate with linkage protection
Making sure the machine glides over obstacles with ease is the polyamide skid plate. With an extended design to cover the suspension linkage, forward momentum is not lost, and any potential damage is prevented. Incredibly durable thanks to its injection molded plastic construction, the skid plate is low in weight and particularly beneficial for those competing in hard enduro events.
Brembo hydraulic clutch and brake system
As used by Husqvarna Factory Racing, the reliable Brembo hydraulic clutch and brake systems provide consistent, confidence-inspiring performance in all conditions. With self-adjusting free play, the race-tested hydraulic clutch offers a near maintenance-free operation that allows all riders to focus on the trails ahead.
Factory Racing wheelset
The Factory Racing Wheel Set offers increased strength and stability when riding across technical terrain. The hubs are made from CNC-machined aluminium and then anodised black before being laced to black EXCEL Takasago rims using strong spokes. A new axle puller speeds up the removal of the front wheel.
Competition seat cover
A new high-grip cover with additional ribs for extra traction is fitted over the familiar ergonomics of the standard seat foam. Better capable of holding the rider in place when riding either sat down or stood up, the tear-resistant seat cover enhances control in all conditions.
Soft compound ODI grips
Providing welcome comfort throughout the longest and toughest of days are the soft compound ODI grips. The throttle grip is vulcanised onto the throttle tube for a failproof fitment while the left grip is clamped in place using a small bolt.
Radiators
Manufactured from high-strength aluminium, the radiators are designed using Computational Fluid Dynamics (CFD) to channel air in the most effective way. A large centre tube channels coolant through the frame to reduce pressure at this point in the system for a more consistent flow while an internal thermostat further enhances reliability. A new design radiator cap with a bayonet closure ensures a secure fit.
Triple clamps
The black-anodized, CNC-machined triple clamps offer premium quality as standard on all Husqvarna enduro models. They have a carefully calculated 22 mm offset and are expertly crafted using superior techniques and materials for the highest levels of quality and reliability. The redesigned handlebar clamp has a larger contact surface with the ProTaper bars for reduced twisting in the event of a crash, and offers two mounting options for customisable ergonomics.
Airbox
With precisely positioned inlet ducts reducing air flow deformation, the airbox ensures unrestricted airflow with maximum filter protection. The Twin Air filter is mounted onto a cage designed to offer accurate installation and can be easily accessed without tools by removing the left side panel.
LED headlight
The new LED Headlight provides a brighter light output of approximately 300% for much-improved visibility at night and is particularly effective when riding through dense woodland. A new mounting design sees the LED lighting unit installed into the headlight mask using a quick-release system, which allows it to be replaced quickly and easily if damaged.
Map select switch
By using the Map Select Switch, the engine characteristics can be tailored to modify the power delivery according to rider preference and conditions. It has two settings that can be engaged while riding – Map 1, for predictable, linear power, and Map 2, for added throttle response and exhilarating power output.
Electric start
The TE 300 Pro Series models come standard with an electric starter. The system uses a compact and lightweight Li-Ion battery, which is 1 kg lighter than a conventional battery. With several years of experience in developing and perfecting electric starting, the proven reliability of the Husqvarna enduro range is second to none and ensures quick and easy starting at all times. Additionally, the wiring harness and electrical components are safely located below the seat for easy accessibility.
Engine management system
The Keihin Engine Management System (EMS) is designed to be small, light, and fast at processing data. It incorporates a Rollover Sensor (ROS) that cuts the ignition and shuts off the engine in the event of a severe crash for an additional layer of safety.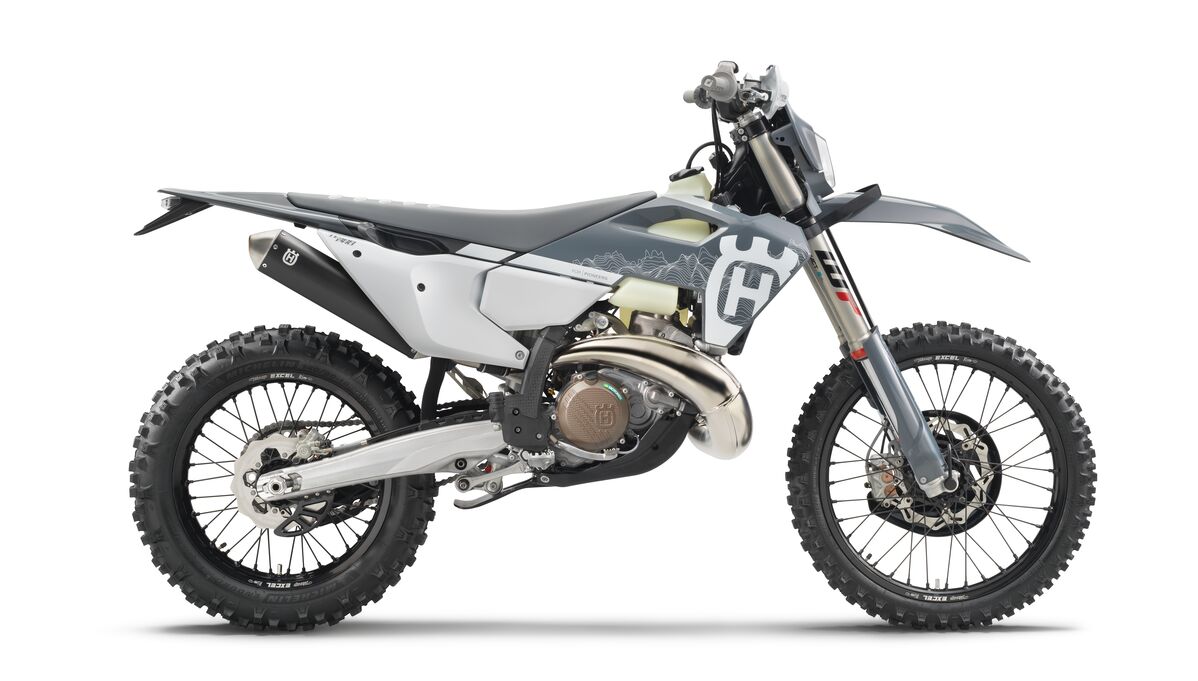 Brand Name
Product Name
Price
Product Availability