Model Description
Enhanced with the latest technical innovations and producing more power than the previous generation, the FE 501 continues to be the most powerful machine in the Husqvarna Motorcycles enduro line-up. A new engine for 2024 produces a broader spread of controllable power and by positioning the engine shaft arrangements at the ideal centre of gravity, this vastly benefits manoeuvrability. Aiding this agile feel is the new chassis, which has been developed and manufactured using advanced engineering techniques, which together with new WP Suspension ensures enhanced comfort across rough terrain. Expertly assembled with high-quality components throughout, the FE 501 is finished with new functional bodywork adorned with white, yellow, and blue graphics inspired by the Swedish heritage of the brand.
ENGINE
The FE 501 engine is the most powerful model in the Husqvarna Motorcycles FE line-up and benefits from advanced engineering techniques to deliver maximum performance. For 2024, the engine is tilted two degrees backwards for significantly improved anti-squat behaviour from the chassis, which further aids the centralisation of mass for improved overall handling. Servicing the FE 501 engine was a key focus during the design process, which is now much easier when compared to previous models thanks to the addition of service markers on the engine cases. Now lighter by 300 g and weighing just 29.5 kg, the 4-stroke engine is also more powerful with an exhilarating peak output.
CYLINDER HEAD
The redesigned SOHC cylinder head is incredibly compact with the camshaft positioned as close to the centre of gravity as possible. A new, more durable fine-punched cam chain and Diamond-Like Carbon (DLC) coated rocker arm offer optimal efficiency and improved reliability while a single oil spray jet guarantees effective cooling. Redesigned intake ports contribute to creating a more efficient and powerful engine.
CYLINDER AND PISTON
The lightweight aluminium cylinder is an engineering masterpiece with a 95 mm bore and a stroke of 72 mm. Inside, the forged CP bridged-box-type piston features anodised annular grooves for added durability and extended service intervals. The compression ratio remains unchanged at 12.75:1.
CRANKCASES
Designed to be low in weight without sacrificing strength or reliability, the new crankcases are made using a high-pressure die-cast production process to create a thin-wall design. To centralise engine mass, the shaft arrangements are precisely positioned to harness rotating masses at the ideal centre of gravity.
THROTTLE BODY
The FE 501 features a 42 mm Keihin throttle body optimised for throttle response. The injector is positioned to ensure the most efficient flow into the combustion chamber with the throttle cable mounted directly without a linkage for an enhanced response. 
EXHAUST
The exhaust system is expertly designed to deliver class-leading performance at the lowest possible weight with the header pipe manufactured in two pieces. This design allows the header pipe to be removed without having to remove the rear shock. Further innovation allows for a short, compact silencer without increasing sound levels. The silencer is crafted from lightweight aluminium and stylishly finished with a black coating to highlight its premium quality.
FRAME
The proven chromium molybdenum steel frame is refined for MY24. A new shock mounting, which is no longer connected to the main tube, significantly improves the anti-squat behaviour of the chassis. With optimised wall thickness in high-stress areas improving reliability, the frame continues to offer advanced geometries and flex characteristics aimed at providing unparalleled rider feedback, energy absorption, and straight-line stability. The frame is complete with a premium metallic blue powder coating with redesigned standard frame protectors offering improved grip in all conditions. Additionally, the redesigned and robust skid plate offers exceptional frame and engine protection.
HYBRID SUBFRAME
Made from 60% polyamide and 40% aluminium, the new subframe offers exceptional strength and durability at a low overall weight of just 1.8 kg. The lower subframe spars and frame mounts are manufactured from cast aluminium for significantly improved reliability, with the upper section made from injection-molded polyamide to enable specific flex characteristics.
SWINGARM
The new hollow die-cast aluminium swingarm is manufactured from a single piece of aluminium using an improved casting process for optimal stiffness and a 190 g weight reduction. In order to optimise and match the flex characteristics of the new frame, a new 22 mm rear axle is fitted. Additionally, the chain guard and chain slider have been completely redesigned for improved durability with the chain guard made with a rounder profile to prevent catching on external objects.
BODYWORK
Adorned with clean, Swedish-inspired graphics, the bodywork is refined with the ergonomics allowing riders to perform at their best for extended periods of time. Adapted after countless hours of testing, the contact points and surfaces in the rider triangle have been repositioned for MY24 to further improve comfort on the motorcycle. A flatter seat profile offers unrestricted movement with a new, high grip cover ensuring riders stay firmly in place under hard acceleration. Above the side panels, recessed pockets allow for the machine to be lifted and moved, which are particularly beneficial for those competing in extreme enduro events. 
RADIATORS
Manufactured from high-strength aluminium, the radiators are designed using Computational Fluid Dynamics (CFD) to channel air in the most effective way. A large centre tube channels coolant through the frame to reduce pressure at this point in the system for a more consistent flow while an internal thermostat further enhances reliability. A new design radiator cap with a bayonet closure ensures a secure fit. For continued cooling in extreme conditions, a radiator fan is fitted as standard. 
TRIPLE CLAMPS
The black-anodized, CNC-machined triple clamps offer premium quality as standard on all Husqvarna enduro models. They have a carefully calculated 22 mm offset and are designed to provide the perfect harmony between the frame dynamics and fork settings. Expertly crafted using superior techniques and materials, they provide the highest levels of quality and reliability. The redesigned handlebar clamp has a larger contact area with the ProTaper bars for reduced twisting in the event of a crash, and offers two mounting options for customisable ergonomics.
WP XACT FRONT FORKS
Each of Husqvarna Motorcycles' enduro machines are now equipped with WP XACT Closed Cartridge spring forks. Designed and developed for the rigours of enduro riding, the fork offers consistent performance thanks to the closed cartridge spring design, which optimises oil flow and prevents it from foaming. The addition of a new hydrostop, effective in the last 68 mm of travel, is highly effective on heavy landings to maintain maximum forward momentum. Additionally, riders can alter the compression and rebound settings quickly and easily using the tool-free adjusters found at the top and bottom of each fork leg.
WP XACT REAR SHOCK
The all-new WP XACT rear shock is 100 g lighter and 15 mm shorter than its predecessor, yet the travel remains unchanged at 300 mm. With rebound and both high- and low-speed compression adjustable by hand, setting changes can be achieved quickly and easily without tools. Complete with a CFD optimised shock piston, low friction SKF seals, and a revised linkage system, consistent damping, comfort, and traction is guaranteed.
HYDRAULIC BRAKES
The highest level of performance is guaranteed with the latest BRAKTEC braking systems which are specifically designed for enduro riding. New callipers, new brake pads, new levers, and new brake lines together with the GSK wave discs (260 mm disc front and 220 mm rear) result in a sensitive and progressive feel ensuring complete control in all conditions.
HYDRAULIC CLUTCH
The high-quality BRAKTEC clutch system guarantees even wear, reliability, and near maintenance-free operation. In addition, the lever design is updated providing a comfortable feeling in every condition. Play is constantly compensated so that the pressure point and function of the clutch remain identical in cold or hot conditions, as well as over time.
WHEELS AND TIRES
Black high-strength alloy rims by D.I.D are coupled to CNC machined hubs using lightweight spokes and silver anodised aluminium nipples. Fitted to the wheels are Michelin Enduro tyres which offer superior grip on a wide variety of terrain.
LED HEADLIGHT
The new LED Headlight provides a brighter light output of approximately 300% for much-improved visibility at night and is particularly effective when riding through dense woodland. A new mounting design sees the LED lighting unit installed into the headlight mask using a quick-release system, which allows it to be replaced quickly and easily if damaged.
MAP SELECT SWITCH
Designed for easy operation, the Map Select Switch allows riders to easily choose between two EFI maps, activates Traction Control, and engages the new Quickshifter. Traction Control can be switched on or off via the Map Select Switch and functions by analysing throttle input from the rider and the rate at which the engine RPM increases. If the RPM increases too quickly, the EMS registers a loss of grip and reduces the amount of power to the rear wheel, ensuring maximum traction. The Quickshifter can also be engaged using the same Map Select Switch and offers seamless upshifts under heavy load.
QUICKSHIFT
The new Quickshifter can be activated or deactivated via the Map Select Switch. By interrupting the ignition for a fraction of a second, this allows upshifting while the throttle is fully open without the use of the clutch. To prevent unintended shifts, the function is only active from second gear upwards.
FOOTREST
Using state-of-the-art computational fluid dynamics, the new footrests are slightly larger to improve control. Additionally, the mounting position for the footrests on the new frame brings them inwards, which makes them less susceptible to catching on the ground through deep ruts.
ELECTRIC START
The proven electric start system uses a compact and lightweight Li-Ion battery, which is 1 kg lighter than a conventional battery. With several years of experience of developing and perfecting electric starting, the reliability of the electric start is second to none and ensures a quick and easy starting in any situation. Additionally, the wiring harness and electrical components are safely located below the seat for easy accessibility.
AIRBOX
With precisely positioned inlet ducts reducing air flow deformation, the airbox ensures unrestricted airflow with maximum filter protection. The Twin Air filter is mounted onto a cage designed to offer accurate installation and can be easily accessed without tools by removing the left side panel.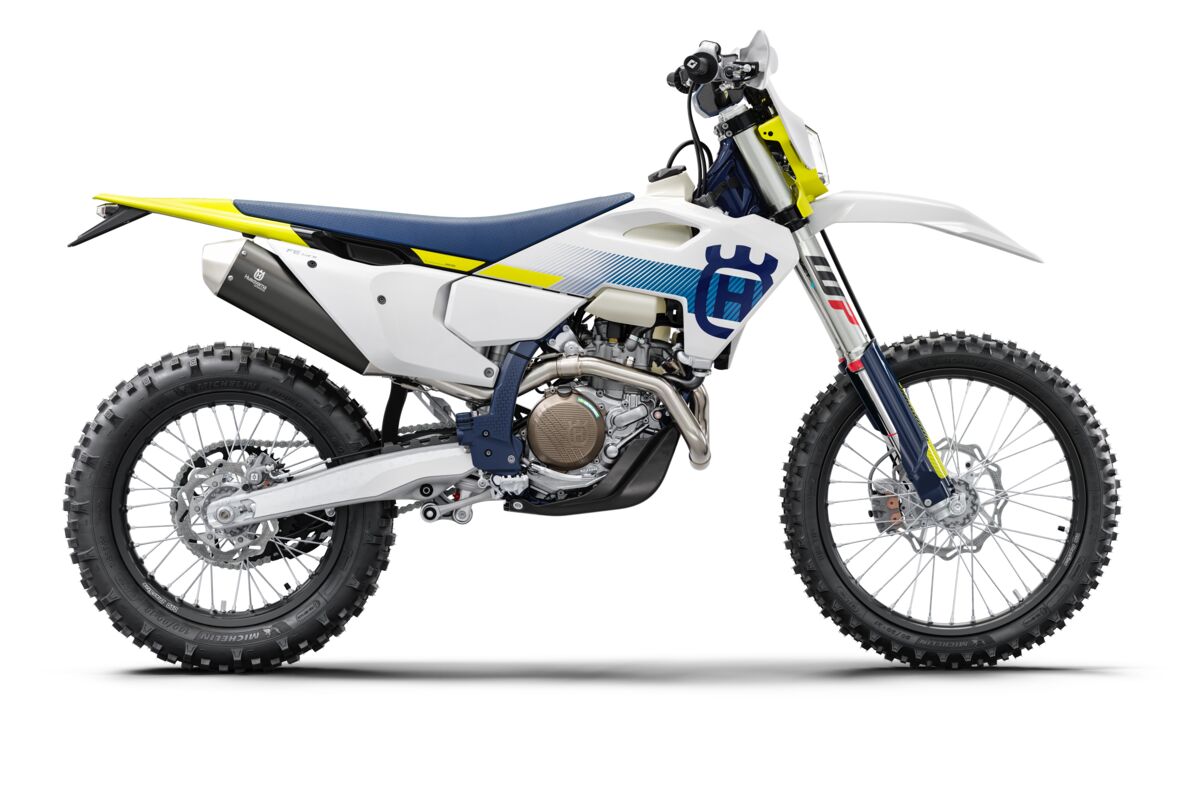 Brand Name
Product Name
Price
Product Availability