Model Description
With the agility of a 250 and a power-to-weight ratio rivalling the 450, the FC 350 strikes a competitive balance between power and handling. This appeals to both professional and amateur riders alike, as a user-friendly riding experience in all conditions is delivered. With multiple performance-focused components fitted as standard, and with revised suspension settings improving handling, the FC 350 comfortably retains its position as one of the most multi-talented motocross bikes on the market for 2024. New, Swedish inspired white, yellow, and grey graphics complete the revisions, and are applied to the ergonomic bodywork using in-mold technology for a long-lasting and striking finish.
ENGINE
The FC 350 engine is designed to deliver maximum performance. The repositioning of all major engine components and shaft arrangements enhances overall handling with the design improving anti-squat behaviour from the whole chassis. Weighing just 27.2 kg, the 350 cc 4-stroke engine is tilted two degrees backwards and is 8 mm shorter in height to further centralise mass.
CYLINDER HEAD
Fully redesigned for 2023, the DOHC cylinder head offers improved durability and serviceability, with Diamond Like Carbon (DLC) coated finger followers to guarantee minimal friction and optimal performance. These actuate large titanium valves, 36.3 mm for the intake and 29.1 mm for the exhaust, which optimise gas flow for strong, usable power access the rev-range, all the way up to the 13,400 rpm limit. Revised valve timings work in perfect harmony with the redesigned camshaft which now features a bearing bridge designed to increase stiffness and improve serviceability.
CYLINDER AND PISTON
A large 88 mm bore and 57.5 mm stroke cylinder is professionally engineered from high-strength aluminium for maximum reliability, and houses the high performance forged bridged-box-type piston from CP. The compression ratio is increased to 14.6:1 for improved torque and peak power. Engine responsiveness is further improved thanks to optimised valve guides and valve shaft diameters precisely engineered using computational fluid dynamics (CFD).
CRANKSHAFT
At the centre of the high-output, high-revving FC 350 engine is a crankshaft featuring a plain big end bearing rotating on two force-fitted bearing shells, ensuring maximum reliability and durability, guaranteeing long service intervals of 90 hours.
CRANKCASES
Designed for optimised mass centralisation, the FC 350 crankcases house all internal components in the perfect position to achieve the ideal centre of gravity. Manufactured using a high-pressure die cast production process, the result is a thin, exceptionally strong wall thickness at the lowest possible weight.
DS CLUTCH
The FC 350 features a revised (DS) Diaphragm Steel clutch. Engineered from a single piece of CNC-machined steel, the redesigned clutch basket accommodates the gearbox and allows the use of thin steel liners, which contribute to the compact design of the engine.
GEARBOX
Produced by Pankl Racing Systems, the 5-speed gearbox is designed to be extremely light and durable while featuring optimised and proven motocross-specific gear ratios (24:72). A redesign of the shift shaft reduces the operating forces required for gear changes. Integrated into the shift drum, a quickshift sensor can be activated by pressing the QS marked button on the Map Select Switch to further aid seamless upshifting.
LIGHTWEIGHT FRAME
The proven chromium molybdenum steel frame was refined for 2023. A shock mounting, which is no longer connected to the main tube, significantly improves the anti-squat behaviour of the chassis. With optimised wall thickness in high stress areas improving reliability, the frame continues to offer advanced geometries and flex characteristics aimed at providing unparalleled rider feedback, energy absorption, and exceptional straight-line stability. The frame is finished off in a premium metallic blue powder coating with redesigned standard frame protectors offering superior protection, durability, and grip in any condition. Additionally, the inclusion of forged brackets on the lower frame rails allows for easy installation of the skid plate, which is available as a technical accessory.
POLYAMIDE-REINFORCED ALUMINIUM SUBFRAME
Made from 60% polyamide and 40% aluminium, the two-piece subframe ensures exceptional strength and durability at an overall weight of just 1.8 kg. The lower subframe spars and frame mounts are manufactured from cast aluminium for significantly improved reliability. The upper section of the subframe is made from injection-moulded polyamide to enable specific flex characteristics and ensure a lightweight construction.
CNC MACHINED TRIPLE CLAMPS
Matching the frame design and suspension set-up, the CNC-machined triple clamps provide precisely calculated geometry for increased stability. Customised handlebar flex can be achieved by the handlebar clamp which offers two mounting options – rubber-damped for less vibration or fixed for enhanced front-end feedback. The upper triple clamp is stiffer to ensure a smoother fork action and plays a vital role in the perfect alignment of the front wheel for superior handling.
WP XACT FRONT SUSPENSION
The 48 mm split air forks now offer improved bottoming resistance thanks to a hydrostop, which applies a progressive damping force in the last 40 mm of travel for even greater comfort. The WP forks are designed with a capsulated, adjustable air spring and pressurized oil chamber for smooth action and consistent damping. Oil and air bypasses reduce pressure peaks and in combination with a midvalve damping system, the forks provide precise feedback to the rider. The settings are easily adjusted via the single air pressure pre-load valve, as well as through easy access click adjusters for compression and rebound. For improved durability, fork protection rings prevent dirt intrusion. Additionally, the air pump needed to adjust the fork's air pressure is provided as standard.
WP XACT SHOCK ABSORBER
A 15 mm shorter rear shock, which is 100 g lighter compared to the previous generation while the rear wheel travel is set at 293 mm. Inside the shock is a Computational Fluid Dynamics (CFD) optimised main piston for improved initial comfort which provides strong hold-up in all conditions. Different sized holes in the shims allow them to open more easily which reduces the overall stress of the oil flow. Complete with low friction SKF seals and a revised linkage system, consistent damping, comfort, and traction are guaranteed with rebound and both high and low speed compression now adjustable by hand.
SWINGARM
The hollow die-cast aluminium swingarm is manufactured from a single piece of aluminium using an improved die-cast production process for optimal stiffness and a 190 g weight reduction over previous versions. In order to optimise and match the flex characteristics from the frame, a 22 mm rear axle is fitted. Additionally, the chain guard and chain slider have been completely redesigned for improved durability and are less prone to hooking on external objects.
FUNCTIONAL BODYWORK
Clean, Swedish-inspired design and ergonomics are tailored to allow riders to perform at their best for extended periods of time. Adapted after countless hours of testing, the contact points and surfaces in the rider triangle were repositioned to improve comfort on the motorcycle. A  flatter seat offers unrestricted movement with a high grip cover ensuring riders stay firmly in place under hard acceleration.
AIRBOX
Designed with precisely positioned inlet ducts aimed at reducing drag and air flow deformation, the airbox ensures unrestricted airflow with maximum filter protection. The TWIN AIR filter is easily accessed without tools, by simply removing the left side panel for easy maintenance. Offering further performance customisation, the FC 350 is delivered with an additional airbox cover that can be changed without the use of any tools for a sharper throttle response according to rider preference or track conditions.
HYDRAULIC CLUTCH
The high-performance Brembo hydraulic clutch system guarantees even wear, near maintenance-free operation and perfect modulation in every condition. Meaning that play is constantly compensated so that the pressure point, and function of the clutch remain identical in cold or hot conditions, as well as over time. Countless hours of race-focused testing have proven the high-quality, Italian-made Brembo hydraulic systems' exceptional reliability.
HYDRAULIC BRAKES
The highest level of quality is guaranteed with class-leading Brembo callipers made from single pieces of aluminium for strength at the lowest possible weight. Together with a redesigned 260 mm front and a 220 mm rear disc which offer improved dirt removal, superior stopping power and braking confidence is guaranteed in all conditions.
PROTAPER HANDLEBAR
Developed between Husqvarna Motorcycles and leading handlebar manufacturer, ProTaper, the exclusive bend offers superior comfort, class-leading strength, and fatigue resistance at the lowest possible weight.
ODI GRIPS
ODI lock-on grips feature an innovative integrated throttle mechanism and a glue-free installation. The throttle assembly offers easy free-play adjustment with the option to fit alternative cams for a personalised throttle action.
FOOTRESTS
CFD-designed footrests offer a 26.8% larger contact area to ensure better control of the machine while being less susceptible to hooking on deep ruts, take-offs when scrubbing, or trackside barriers. This was achieved by a narrower mounting design in the frame layout, which also helps reduce overall weight.
WHEELS AND TYRES
Assembled with CNC-machined hubs, strong spokes, and black-anodised alloy rims by D.I.D, the wheels of the FC 350 are fitted with DUNLOP GEOMAX MX33 Motocross tyres which feature a proven block-within-a-block design for more progressive cornering and superior grip. For improved on-track agility and stability through ruts, the FC 350 is fitted with a 110/90-19 rear tyre while a 80/100-21 front tyre ensures optimal grip on a variety of riding surfaces.
EXHAUST SYSTEM
The exhaust system on the FC 350 features a flow-designed resonance chamber, which plays a vital role in delivering class-leading performance. Manufactured in two pieces and designed to be as compact as possible, the header pipe allows for the system to be removed without removing the rear shock. The silencer has a short and efficient design, moving weight closer to the centre of gravity and ensuring impressive power while keeping noise as low as possible. A black coating highlights its premium quality.
COOLING SYSTEM
Manufactured from high-strength aluminium, the radiators are designed using Computational Fluid Dynamics (CFD) to channel air in the most effective way. A large centre tube channels coolant through the frame to reduce pressure at this point in the system for a more consistent flow while an internal thermostat further enhances reliability.
FUEL TANK
A 7.2 litre fuel tank integrates neatly into the revised bodywork. Due to the fuel pump design and position, the tank is emptied further for increased running times. For improved safety, the external fuel line is specifically routed to make it less exposed and susceptible to damage.
MAP SELECT SWITCH
A redesigned and intuitive handlebar-mounted map select switch allows riders to activate launch and traction control, enable the quickshift functionality, and allows riders to toggle between two engine maps. The easy-to-operate map select switch allows racers to quickly alter and set up the engine characteristics on a race by race basis dependent on track conditions and rider preference.
QUICKSHFT
The quickshift function can be activated or deactivated via the map select switch. The function works only when upshifting, interrupting the ignition for a fraction of a second. This allows upshifting while the throttle is fully open without the use of the clutch. A sensor on the shift drum registers the force from the shift lever, sends the signal to the ECU and the ignition timing is interrupted. To prevent unintended shifts and false neutrals, the function is only active from second gear upwards.
TRACTION CONTROL
Traction control on the FC 350 is engaged by a button marked 'TC' on the Map Select Switch and functions by analysing throttle input from the rider and the rate at which engine RPM increases. If the RPM increases too quickly, the engine management system (EMS) registers a loss of grip and reduces the amount of power to the rear wheel to ensure maximum traction. This is a distinct advantage in wet or muddy conditions.
LAUNCH CONTROL
With the engine at idle, launch control is engaged by pressing the traction control and quickshift buttons simultaneously. Both symbols will start flashing to indicate the launch control is active. This function limits the amount of power to the rear wheel, improving traction, and preventing loss of control under hard acceleration. Once a gear change is made, the launch control will deactivate automatically. Additionally, the quickshift function is deactivated while launch control mode is engaged.
MAPPING
For personalised power delivery, the FC 350 has two built-in engine maps as standard. Map 1 offers linear, predictable power, while Map 2 is more aggressive for a sharper throttle response and more explosive power output.
EMS
The Engine Management System (EMS) is designed to be smaller and lighter while being faster at processing data. It incorporates a rollover sensor (ROS) which cuts the ignition and shuts off the engine for safety in the event of a severe crash, adding another level of safety to Husqvarna Motorcycles' motocross line-up.
HOUR METER
An hour meter comes with an integrated fuel level indicator, which is visible on the FI status LED, indicating to the rider when the fuel level is becoming low.
START/STOP SWITCH
The combined start/stop switch is located on right side of handlebar for easy, thumb-operated use. Not only simplifying the starting and stopping of the engine, the removal of a designated stop only button from the handlebar reduces the risk of potential damage or activation in the event of a fall.
ELECTRIC START
As with all 4-strokes in the Husqvarna motocross range, the FC 350 starts with the ease of pressing a button thanks to electric start. A lightweight Li-Ion 2.0 Ah battery is fitted, giving the convenience of electric starting while keeping overall weight to a minimum.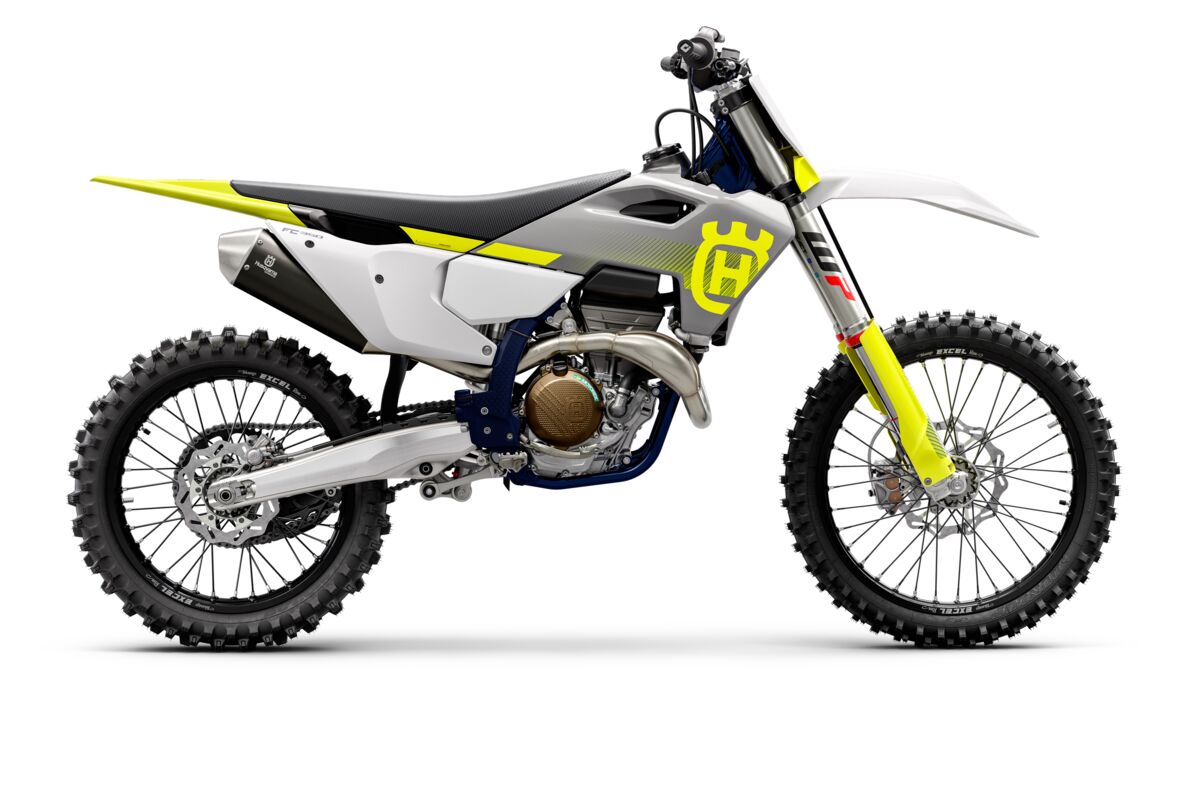 Brand Name
Product Name
Price
Product Availability