GASGAS UNVEILS TRIALS LINE-UP FOR 2024
ALL SIX MODELS AVAILABLE TO ORDER FROM SEPTEMBER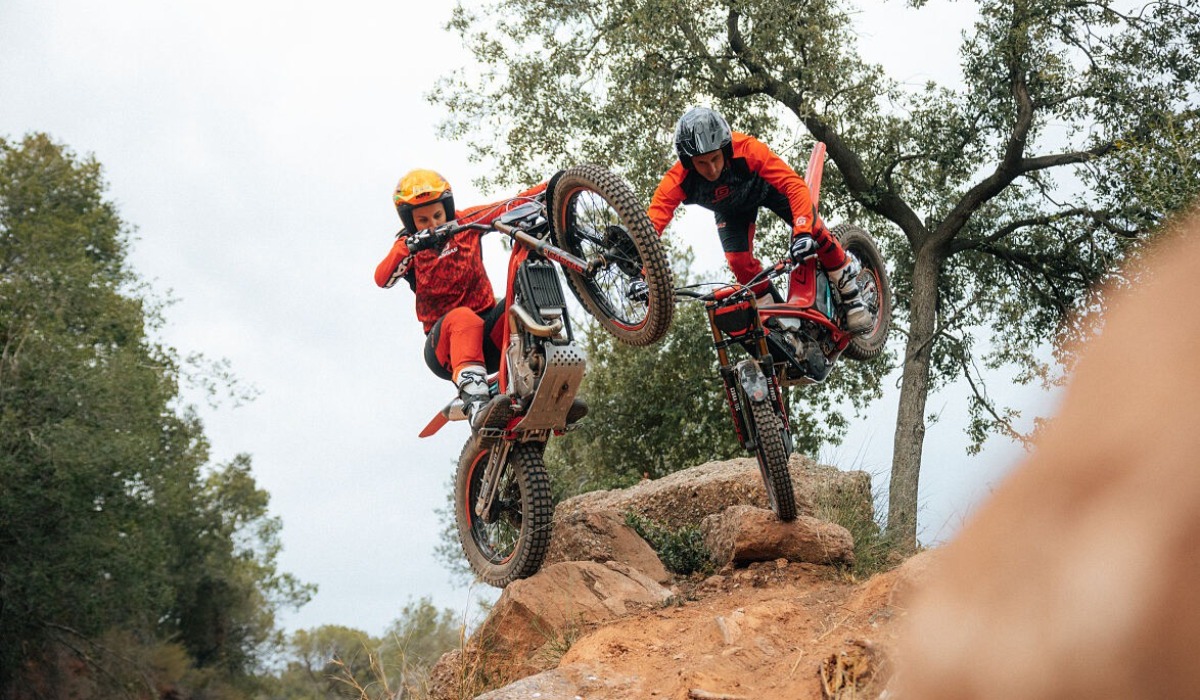 One year on from launching the best GASGAS trials bikes ever made, GASGAS is heading full steam into 2024 with an updated line-up, based on the already proven model range. Each of the two TXT GP models have received some tasty upgrades while our four tried, tested and much-loved TXT RACING bikes remain every bit as awesome and super fun to ride. 
GASGAS unveils its awesome 2024 six bike trials line-up 
Rideability and performance of the TXT GP bikes taken to new levels
All six models available from official GASGAS dealers worldwide from September
It only seems like yesterday that GASGAS unveiled the latest and greatest generation of trials bikes. But now, 12 months on, and the best just got better. The bold, modern, and instantly recognisable 2024 bikes are here, with their distinctive red livery. Beyond their easy-on-the-eye appearance, these 2-strokes are the real deal. GASGAS knows that trials riders worldwide absolutely love the unmatched rideability of each bike, which is a result of their agile handling and compact, powerful motors.
For 2024, performance has certainly been spiced up on the TXT GP 250 and TXT GP 300 models. The first thing that draws attention, both visually and while riding, is the Akrapovic exhaust pipe. Made from high-grade titanium, the header pipe is not only 350 grams lighter, but between 2,000rpm and 7,000rpm, there's a noticeable boost to power, which makes scaling the biggest obstacles even easier than before.
Handling wise, the TXT GP models retain the fully adjustable Tech3 shock that now features a 25% larger reservoir for increased oil capacity. The reason for this revision is simple – less heat builds up which makes damping much more consistent and predictable, even through the gnarliest of technical sections.
Rounding off the exciting changes to both TXT GP bikes are the new, FIM-approved brake discs front and rear, a new gear lever – designed with a shorter tip that's better at preventing mud from building up, as well as fresh new graphics taken straight from the GASGAS Factory Racing bikes.
Offering next-level rideability, the GASGAS TXT RACING models deliver unrivaled performance and with four popular engine sizes – 125cc, 250cc, 280cc and 300cc – the 2024 range really does offer something for everyone! Each of these models, as well as the TXT GP range, are assembled inside the state-of-the-art GASGAS production facility in Terrassa, Spain, and fitted with quality components throughout. The hottest around when it comes to high-performance trial bikes, the 2024 GASGAS TXT RACING range lets trial riders of all ages and abilities do their thing with serious style.
Technical Highlights – TXT GP

New Akrapovic exhaust pipe boosts power while saving weight
New brake disks front and rear
New gear lever for improved shifting in all conditions
New GASGAS Factory Racing replica graphics
New TECH TJ3 shock absorber is fully adjustable and offers consistent damping
TECH front fork with 174.5mm of travel and a KASHIMA coating for enhanced sensitivity
Lightweight steel frame made from cast and tubular parts with aluminum front hangars
Cylinder head with interchangeable inserts for customised power
NEKEN handlebars and RENTHAL grips
GASGAS Factory Racing inspired bar pad
CNC-machined, black anodised aluminum triple clamps
BRAKTEC hydraulic clutch and brakes
Strong and lightweight wheels with CNC machined hubs and a lightweight rear rim
Michelin Trial X11 tyres front and rear for maximum traction
Patented 4/6-speed transmission
Technical Highlights – TXT RACING

Lightweight steel frame made from cast and tubular parts with aluminum front hangers
Cylinder head with interchangeable inserts for customised power
Fully adjustable TECH forks offer 174.5mm of travel
TECH shock allows for a personalised rebound and spring preload set up
Ergonomic bodywork complete with in-mold graphics
Footpeg design boosts control in tough conditions
Silencer features a super-durable end cap
NEKEN handlebars and RENTHAL grips BRAKTEC hydraulic clutch and brakes
Strong and lightweight wheels with CNC machined hubs
Michelin Trial X11 tyres front and rear for maximum traction
Patented 4/6-speed transmission
All six models will start to arrive from September 2023. Full model price list below.
TXT RACING 125 2024 – £7,399.00
TXT RACING 250 2024 – £7,499.00
TXT RACING 280 2024 – £7,599.00
TXT RACING 300 2024 – £7,699.00
TXT GP 250 2024 – £8,099.00
TXT GP 300 2024 – £8,299.00