TURN UP THE HEAT
GASGAS LAUNCHES 2024 MOTOCROSS RANGE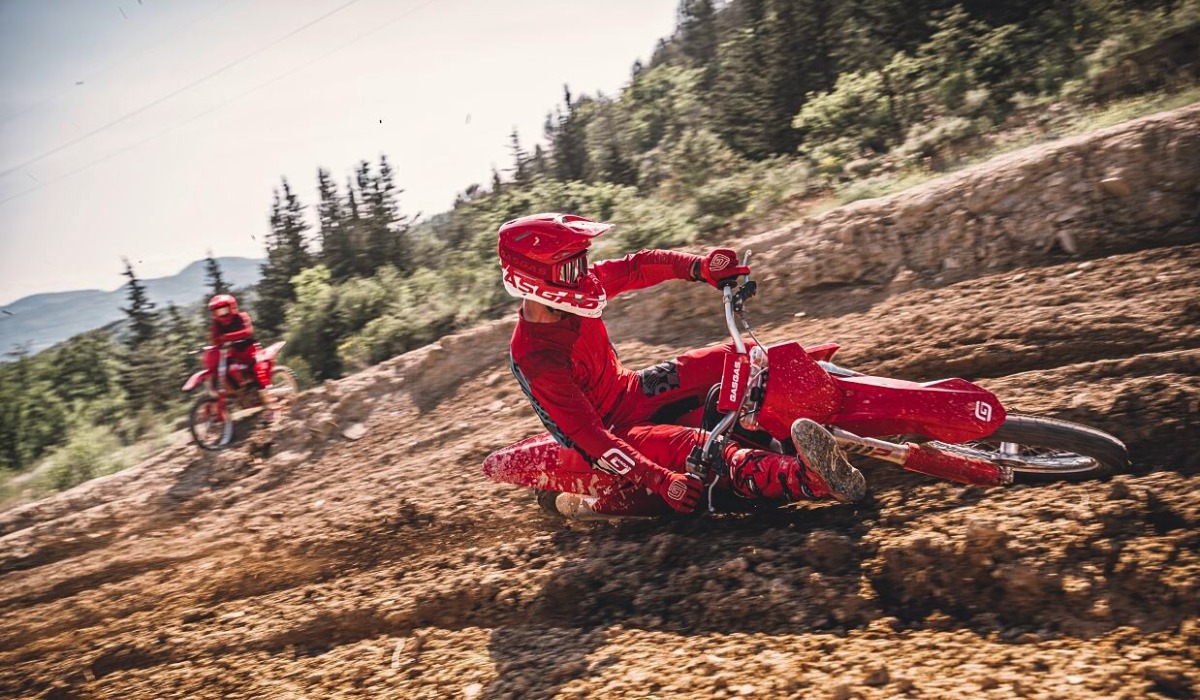 GASGAS is stoked to reveal an all-new generation of motocross bikes for 2024! More red, more awesome, and delivering incredible performance, it's safe to say that things have well and truly been spiced up, with every model equipped with the latest technology. There's barely a single part on any bike that hasn't been improved or refined, which just goes to show how new these dirt bikes really are.
GASGAS turns up the heat with 11-bike-strong offroad line-up for 2024
Huge variety of models available means there's a bike for everyone
Discover the motocross models from August 2023
Motocross | Turning up the heat!
To GASGAS, it doesn't really matter if you ride motocross for fun or if you race to win. What matters is making sure that all five of our new bikes deliver the very best performance for guaranteed good times in the dirt. For 2024, we're really turning up the heat in the moto scene. Starting with our little 2-stroke ripper – our beloved MC 125 – through to the MXGP race winning MC 450F 4-stroke, we really do have a bike to suit all types of riders.
GASGAS motocross models are already the best handling dirt bikes out there, but that didn't stop our engineers from making them perform even better! With each one assembled using new steel frames, new aluminum subframes, and new swingarms, the perfect combination of razor-sharp cornering and straight-line stability is further refined to maximise the fun factor. And to bring our MC 125 and MC 250 2-strokes bang up to date, both bikes fire into life with the simple press of the new electric start button – none of that kickstart nonsense here! Plus, they're now fuelled by cutting-edge throttle body injection for a crisper response and much-improved on-track performance.
Across the board, all 2024 models are now powered by new, lighter motors, which produce both more torque and high-revving power than ever before. They're then fitted neatly inside new frames with a slight backwards tilt to lower the front sprocket, centralise the weight, and make the best handling motocross bikes on the planet handle even better!
Technical Highlights Motocross
New frame – Engineered to be stable at speed, the new frames retain their best-in-class cornering ability and give improved rider feedback.
New aluminum subframe – Strong, reliable, and plays a vital role in the ergonomics and handling of each dirt bike.
New die-cast aluminum swingarm – Light, strong, and offering just the right amount of flex.
New bodywork – Refined rider triangle gives larger contact areas so riders can better grip the bike for improved control.
New hour meter – Helps to make sure all riders stay on top of maintaining their bike.
WP XACT front fork with AER technology – Refined, adjustable by hand, and now feature a hydrostop to take the sting out of heavy landings.
WP XACT rear shock – Shorter and lighter yet retaining 300mm of travel, the WP XACT shock has a new piston to improve both comfort and performance.
New forged triple clamps – Featuring a new steering stem that offers a little more flex for improved comfort.
High-performance Braktec hydraulic clutch system – As close as you can get to maintenance-free, ensuring consistency and performance at all times.
New Braktec brakes – Brake disks that are unique to GASGAS and new calipers front and rear. It's never been easier to keep things under control.
Neken handlebars – Made from high-strength aluminum and with a bar bend that's unique to GASGAS, durability and comfort are guaranteed. There's a bigger bar pad for improved safety too.
New footpegs – Bigger is definitely better when it comes to GASGAS footpegs! They help keep your feet where they need to be in all conditions.
New TBI injection with premix for 2-strokes – Bringing our 2-strokes bang up to date, Throttle Body Injection makes sure the motors run clean, crisp, and create strong power throughout the rev range.
New electronic exhaust control for 2 strokes – Controlling how the exhaust ports open, the new electronic powervalve creates maximum power and offers improved durability.
New motors – Centralising mass while also being lighter, not to mention producing more power, the motors deliver even better performance for 2024.New, unified motor position – All 4-stroke models have the motor mounted in the same position to improve the overall handling of each and every bike.
Map Select Switch – Our MC 125 is already equipped with one, but by adding a Map Select Switch to any of our four strokes, the riding experience is taken to new levels! With the simple press of the corresponding button, launch control, traction control, a quickshifter, and a choice of two maps can be engaged to customise the performance of each bike for every rider. And by adding it to our MC 250, you'll also get the choice of two different engine maps.

Full line-up: MC 125, MC 250, MC 250F, MC 350F, MC 450F
GASGAS Apparel and Technical Accessories
It's never been easier to personalise your GASGAS dirt bike! The revitalised GASGAS Technical Accessories range includes a huge selection of quality components designed to protect, improve, and to add a little more spice to each and every model. And the best part is, with our online configurator, riders can fit their favourite parts to a virtual bike to see just how cool they'll look once fitted. Then, all that's needed is a quick visit to an authorised GASGAS dealer to confirm the selection!

What's more, the GASGAS Apparel range allows everyone to ride in style! With most of the collection created in partnership with the dirt bike industry's leading brands, quality, comfort, and performance is never in question. From head-to-toe, GASGAS Apparel has every rider covered. Discover Apparel.

We're also proud to offer race team replica clothing for every day use, with our Casual Apparel collection. Perfect for hanging out trackside or kicking back with friends, with plenty of options to deal with all kinds of weather, there's loads of reasons to check it out online and in store at your local GASGAS dealer. Explore Casual Apparel.
Price and availabilty
The new 2024 motocross models will be available in authorised GASGAS dealerships from August 2023.
MC 125 – £7,949.00
MC 250 – £8, 749.00
MC 250F – £9,149.00
MC 350F – £9,449.00
MC 450F – £9,749.00