Model Description
MC-E 5 2024
Creating some serious buzz over the last couple of years, it's safe to
say that our MC-E 5 has been a monumental hit! The ideal dirt bike for
youngsters to learn on,it offers an adjustable seat height and six
different ride modes for safe, controlled progression. Offering up to
two hours of uninterupted riding time, it'll then need just one hour to
fully recharge. How cool is that? With its lithium ion battery housed in
a lightweight yet strong chassis, this mini racer is complete with WP
Suspension and constructed with quality components, just like it's
bigger brothers.
BODYWORK
The flat seat profile on the MC-E 5 encourages youngsters to quickly
learn the fundamentals of sitting and standing correctly with the sleek
bodywork allowing for completely unrestricted movement on the bike. With
a cool, all-red look, obviously!
GRAPHICS
It's got to look good, right? Just like every other GASGAS motocross bike the MC-E 5 has a striking look, modern graphics and lots of red, our favorite color! There's also a splash of blue, to signify its electric drive. All graphics are applied using an in-mold process to ensure long lasting good look.
HANDLEBARS
Youngsters need to feel confident, in control. That's exactly why we've fitted tapered NEKEN handlebars to our MC-E 5. Fitted with smaller diameter grips, junior riders can get a good grasp of their new pride and joy, increasing their control and reducing tiredness. An innovative throttle assembly designed especially for electric drive is fitted with a vulcanized ODI grip while a non-glue lock-on grip is fitted to the left side of the handlebars.
FRAME
Wrapped around the 5kW motor is a super tough chromoly steel frame.
Giving youngsters all-important stability, ease of handling and precise
cornering, our engineers have designed each frame to deliver just the
right amount of flex and stiffness.
WP FORKS
With 205mm of travel the lightweight WP XACT forks deliver seriously impressive, and progressive, front-end damping performance. The 35mm USD forks feature the latest internal tech, allowing youngsters to focus on riding and having fun. Fully adjustable with just a hand pump, the air unit in the left fork leg can be adjusted to suit rider preference, weight and, when they start racing, track conditions.
WP SHOCK
Quality parts run throughout the MC-E 5, like the WP monoshock, which is linked directly to the swingarm. Set-up to be perfectly matched to the WP XACT forks, the fully adjustable shock offers a massive 185mm of suspension travel to deliver precise rear-end damping.
SEAT HEIGHT
Being able to put both feet on the floor is essential for young riders and racers. The MC-E 5 has a variable seat height, which can be adjusted from 665mm to 616mm. Quick and easy to do by lowering the seat/bodywork, alternatively, further adjustment can be achieved by mounting the rear shock in a different position and lowering the front forks. To accommodate riders as young as 4, the suspension units can be lowered further with a Suspension Lowering Kit, available from the Accessories catalogue.
ELECTRIC MOTOR
Smooth and powerful, the 5kW motor is super compact and the perfect fit
for our smaller chassis. Air-cooled, dust and water resistant it's also
wear and maintenance-free. The integrated control unit (ECU) guarantees a
direct, but very controllable power delivery.
CONTROL CENTRE
Some call it a multi-functional instrument, we call it the control center – the little box of lights and magic that's placed in front of the seat, close to the steering head. Offering riders and parents a choice of 6 different ride modes, power settings can be selected to suit pure beginners or more experienced racers. The control center also displays the remaining battery power.
BATTERY
Our lithium ion battery does two things – powers the MC-E 5 and keeps youngsters smiling like every day is Christmas! A total of 84 modern lithium ion cells are housed within our robust die-cast battery case, which is mounted above the motor. The 907Wh of stored energy is good for two hours of riding for a beginner or 25 minutes for riders that rip. The integrated battery management system (BMS) ensures the safety and longevity of the battery pack.
CHARGER
Quick. Simple. Clean. Needing just 60 minutes for a full charge or 45 minutes for an 80 percent charge, the MC-E 5 comes with a 110-230 volt worldwide charger, which plugs straight into the battery pack for easy charging.
SAFETY
Riders make mistakes, it's all part of the fun! But it also has to be
safe, which is why the GASGAS MC-E 5 is fitted with a roll-over sensor
that cuts off the power if a rider crashes or falls. With a lanyard
attached to both their wrist and the bike, in the event of a rider
falling the motor is stopped. Adjustable ride modes can also be set and
saved with a dongle, preventing excitable racers from changing to more
powerful riding mode before they're ready for them!
BRAKES
To slow youngsters down and to stop mum from worrying, the MC-E 5 has serious stopping power. Fitted with hydraulically operated brake calipers matched to waved front and rear brake discs, the system ensures powerful brake performance in all conditions.
WHEELS
Just like our full-size motocross bikes, the wheels fitted to the MC-E 5 guarantee strength and reliability. Featuring super cool, lightweight black anodized aluminum rims, MAXXIS tires provide the grip, no matter the riding surface.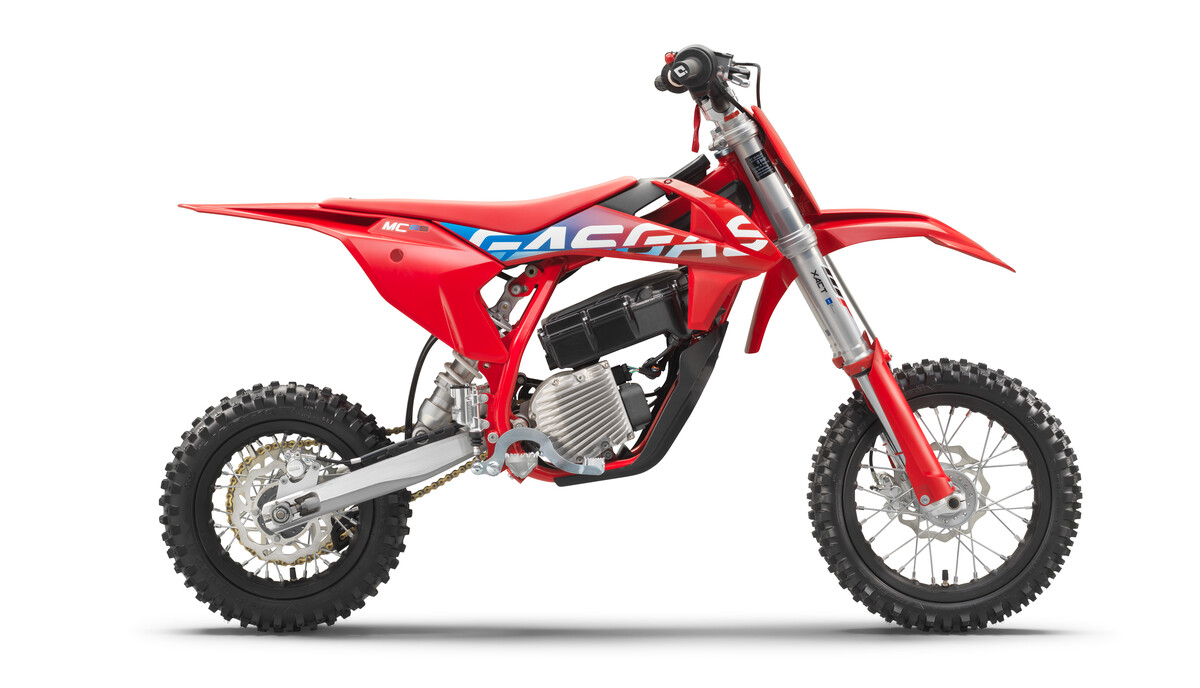 Brand Name
Product Name
Price
Product Availability