Model Description
MC-E 3 2024
Introducing the awesome MC-E 3! Designed to be a more budget-friendly way of getting into the offroad world, make no mistake, it's assembled with the same passion and quality parts as all other bikes in the GASGAS line-up. Easy to ride and personalise thanks to six different power modes and an adjustable seat height, this lightweight, battery-powered dirt shredder instils confidence in all young riders as they quickly get to grips with learning the fundamentals of riding motocross. And it produces next to no noise, and certainly no carbon emissions, which means fun times without disturbing the neighbours!
PREMIUM QUALITY
The MC-E 3 is just the deal! It's a fully-fledged offroad bike designed for
the next wave of fresh talent looking to get their riding career off to
super-fun start, as well as those kids that just fancy whizzing around
with their buddies. Built with a strong and durable frame, quality WP
suspension, and a long list of high level components, the GASGAS MC-E 3
is the best bike to enter the world of offroad fun.
ELECTRIC SILENCE
Battery-powered means the MC-E 3 produces next to zero noise, and it definitely means zero carbon emissions! For both these reasons, this miniature offroad bike can be ridden for hours on end, with a couple of quick recharges, without disturbing anyone. What's more, the electric motor removes the need for a clutch or gearbox, making things a lot more simple for beginners.
BODYWORK
A flat seat profile, modern ergonomics, and unrestricted bodywork means young riders can move freely and quickly develop their riding technique without getting too tired. It's all red too, which certainly makes the MC-E 3 stand out from the crowd!
GRAPHICS
Looks good, doesn't it? All red with a splash of blue in the graphics to signify its electric drive, the MC-E 3 makes a bold statement on and off the track. And to make sure it stays that way, the graphics are applied using in-mold technology which means they're applied under the surface of the plastic so they'll never scratch or peel. How cool is that?
FRAME
Stable at speed and super easy to corner, our engineers designed the
MC-E 3 frame to give all youngsters total control. Made from chromoly
steel, it's strong, lightweight, and finished with a cool and durable
GASGAS red powder coating that really does look the business.
WP FORKS
Taking care of the suspension duties up front is a set of 35mm WP XACT forks. Designed specifically for the MC-E 3, the USD forks deliver impressive performance which allows riders to develop their speed in complete confidence. With 144mm of travel, no jump or bump is too big for the MC-E 3.
WP SHOCK
We only use quality, high performance parts to build the MC-E 3, like the WP monoshock that is linked directly to the swingarm. Perfectly matched to the WP XACT forks, all riders will benefit from 133mm of travel as they get on the gas and attack the track.
SEAT HEIGHT
Being able to put both feet on the floor is essential for youngsters, and because they grow fast, an adjustable seat height allows them to keep progressing with the MC-E 3 as they develop in size. Should the stock seat height of 600mm need to be lowered, it's done in three easy steps – lower the seat, mount the rear shock in the alternative position, and finally, drop the forks through the triple clamps to get the perfect balance.
ELECTRIC MOTOR
Smooth and powerful, the 3.8kW motor is super compact and the perfect
fit for our smaller chassis. The air-cooled, permanent magnet electric
motor is resistant to dust and water as well as being maintenance-free!
Guaranteeing direct, but very controllable, power is the Electronic
Control Unit (ECU) while the Control Center offers six different ride
modes to further customise the delivery.
CONTROL CENTRE
Some call this a multifunctional instrument but we like to call it the Control Centre! It's where you can toggle through and activate one of the six pre-installed ride modes based on rider ability, from pure beginners all the way through to those competing in the European Junior E-Motocross Series. At a glance you'll also be able to see the remaining battery level, too.
BATTERY
The MC-E 3 is equipped with the best battery on the market. Made up from 60 modern lithium ion cells, which are safely housed inside a robust die-cast case, the battery fits neatly inside the frame and just above the motor. Storing 648Wh of energy provides two hours of riding time for a beginner or 30 minutes for riders that rip. The integrated Battery Management System (BMS) ensures the safety and longevity for the battery pack.
CHARGER
Making things easy for everyone is the 110-230 Volt worldwide charger. Quick and simple to plug in and restore power, the MC-E 3 can be fully recharged in 60 minutes or for those who can't wait to ride, an 80% charge can be achieved in just 30 minutes.
SAFETY
Mistakes happen while learning to ride, which is all part of the fun!
But to make things as safe as possible, the MC-E 3 has a roll-over
sensor that stops the motor if the bike hits the deck. There's also a
lanyard attached to the rider's wrist and in the event of a fall, this
stops the motor. A final layer of safety is the dongle located under the
seat. This little device overrides the Control Center and saves the
selected ride mode, which prevents excitable youngsters from changing to
a more powerful setting before they're ready for it.
BRAKES
Hydraulic brakes and wavey discs front and rear mean the MC-E 3 has serious stopping power. And to set youngsters up for their lifetime on two wheels, the rear brake is operated by hand, for easy first steps.
WHEELS
Because some kids just wanna send it, we've kitted out the MC-E 3 with strong and reliable 10″ wheels. Featuring super cool, lightweight black anodized aluminum rims, the Maxxis tires provide maximum traction on any riding surface.
HANDLEBARS
When youngsters feel confident and in control, that's when they're having the most fun. Which is precisely why we've fitted tapered NEKEN handlebars with smaller diameter ODI grips. This proven combo allows kids to get a real grasp of their dirt bike, which inspires confidence and helps to reduce tiredness as they don't need to hold on so tight.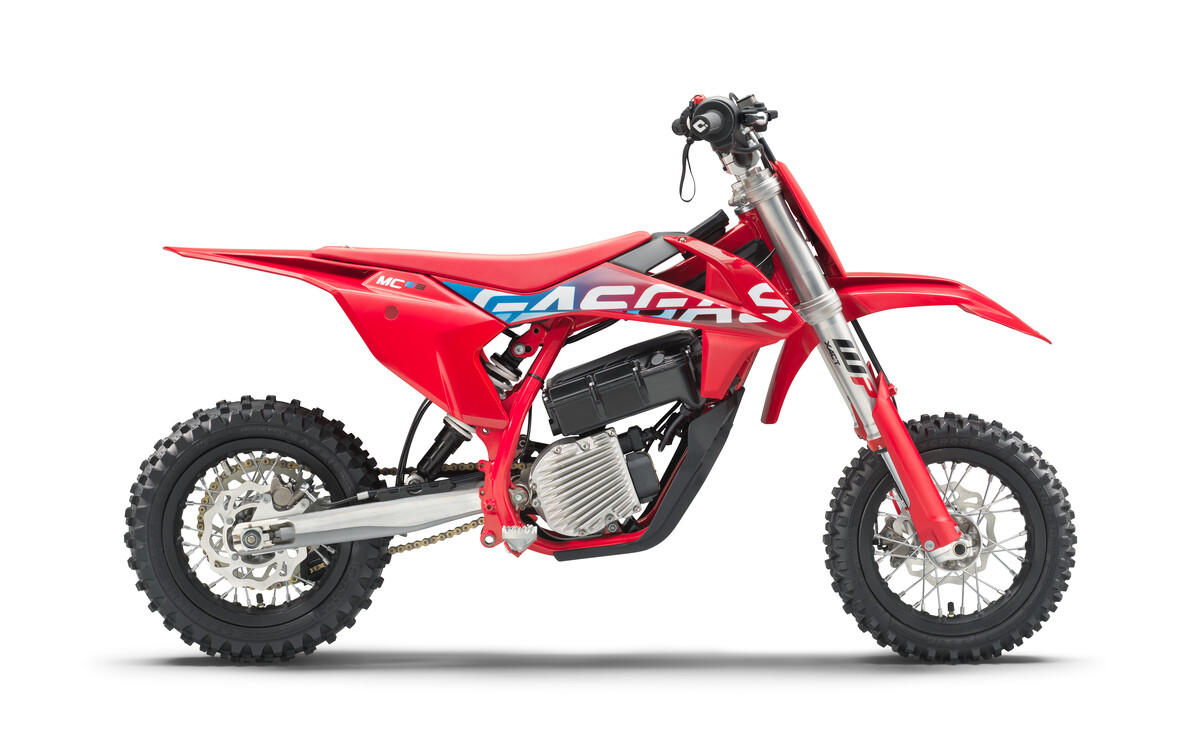 Brand Name
Product Name
Price
Product Availability