Model Description
EC 350F 2024
For those after a little more power and performance, the GASGAS EC 350F is our mid-size 4-stroke that offers playful and agile handling for endless fun between the trees. It's our perfect, do-it-all dirt bike designed for day long fun no matter what the conditions. Fitted with a Braktec hydraulic clutch for a consistent, maintenance-free operation, the EC 350F is also equipped with a super-reliable and smooth-shifting 6-speed transmission, supple WP suspension, and a whole host of enduro specific components to ensure a next-level riding experience. You're gonna love it!
BODYWORK
All red and all-new! Fully redesigned from front to back, the sleek bodywork is incredibly ergonomic with larger contact surfaces and an improved rider triangle further enhancing control. The rad shrouds are shaped to help better grip the bike as you get on the gas. There's also a super grippy seat cover keeping you sat exactly where you need to be.
EXHAUST SYSTEM
Delivering enduro specific power as well as being competition-compliant, all our exhausts are designed and built to meet FIM sound regulations! Our 4-stroke header pipes wrap tightly around the motor to keep them out of harms way and deliver the very best performance at the lowest possible weight. They're also made in two pieces, which means they can easily be removed without needing to take out the rear shock. At the rear, there's short and compact silencer made from aluminum with a raw finish because, lets face it, it's going to get scratched sooner or later!
AIRBOX
Less time working on bikes means more time riding bikes, which is precisely why you'll love the straightforward, no tools and no nonsense filter mounting system. Allowing quick and easy filter changes, the airbox is designed with precisely positioned inlet ducts to direct the flow of air towards the Twin Air filter, which helps create maximum horsepower.
HANDLEBAR
Get on the gas and hold on tight! Not too tight though as nobody likes arm pump… But to make sure the riding is comfortable, Neken handlebars are clamped into redesigned bar mounts (they're less resistant to twisting if you should hit the deck), with lock-on style, medium compound ODI grips fitted to create a comfy set-up to suit all riders. There's also a new, stronger throttle housing that's more impact resistant for improved durability.
FUEL TANK
The all-new tank holds nine liters of fuel but it remains just as slim as the old one. Made from transparent polythene, riders can easily see how much fuel is inside the tank with a threaded filler cap providing a secure and reliable seal. With an integrated fuel pump allowing the tank to be emptied further before refuelling is needed, extended rides are not a problem for this GASGAS!
FOOTPEGS
Bigger is better when it comes to footpegs, which is why on the new models there's a bigger platform for better control. Plus, thanks to a new mounting design, they're placed further inward on the frame, which makes them less prone to catching the edge of deep ruts and a like.
FRAME
A new generation enduro bike is nothing without a new frame, right? Playful handling continues for 2024 as the best traits from the old frame – the razor-sharp cornering and confidence-inspiring straight line stability – are retained. But somehow, our engineering wizards have made this bike handle even better! They've done this by improving the anti-squat behavior for maximum traction when exiting corners and throughout the frame, the wall thickness has been revised in certain areas to enhance rider feedback and energy absorption. The frame is finished with a durable red powder coating and guards to prevent wear, which also offer a little extra grip for your boots too.
SUBFRAME
The all-aluminium subframe is light, strong, and works as one with the new frame by helping to centralize mass and contributing massively to the bike's outstanding handling characteristics.
FORGED TRIPLE CLAMPS
New, forged aluminum triple clamps offer just the right amount of calculated flex thanks to a revised steering stem. The triple clamps align the fork tubes perfectly for a smoother action, which improves front wheel feedback and leads to predictable handling acrosss any terrain. There are also new, adjustable bar mounts with a slightly larger contact area against the handlebars so if you do crash, there's less chance of the bars twisting. A glass bead blasted finish means the triple clamps always look as good as new.
WP FORKS
The tried and tested WP XPLOR Open Cartridge forks remain but for 2024 they've been updated with new settings to further improve performance. There are longer fork legs too, which balances the bike out a little more. The rebound and compression clickers easily adjustable by hand.
WP SHOCK
Soaking up the bumps with ease, the new WP XACT rear shock is shorter and lighter than the old version but still offers 300mm of travel. Inside, there's been some technical changes with a new piston improving initial comfort and helping the shock stay up a little higher in the stroke, especially when under hard acceleration. And just like the WP forks, the WP shock is adjustable by hand so it's quick and easy to dial things in whenever you need to.
SWINGARM
Cast from one piece of aluminum, lower in weight than the old one, and slightly stiffer, the new swingarm on this GASGAS is as good as it gets! There's also a much more durable chain slider and the guide is more rounded to help prevent the bike from catching the ground as you negotiate your way through gnarly ruts! The swingarm is complete with a new 22mm rear wheel axle to complement the refined flex characteristics of the entire chassis. Finally, clear chain adjustment markings ensure quick and easy maintenance.
MOTOR
Everything about the EC 350F motor is all new for 2024. Making the already awesome motor even better, our engineers have refined all major components to maximise power and torque. It even helps to improve handling as it's positioned inside the frame tilting backwards slightly, to help centralize mass.
CYLINDER AND PISTON
Engineered for performance, the cylinder and bridged-box-type CP piston combine to create impressive torque and peak power. And with both components professionally engineered from high strength aluminum, you can be assured that reliability is never in question.
CYLINDER HEAD
For 2024, the EC 350F features a revised DOHC cylinder head with a layout that's meticulously engineered to deliver performance and reliability. Internally, the finger followers are treated with a Diamond-Like Carbon (DLC) coating for minimal friction, which together with the redesigned camshaft, produces an incredibly broad spread of power.
COUNTER BALANCER SHAFT
The EC 350F motor uses a compact, multifunctional counter balancer shaft to counteract the rotational force of the crankshaft. Reducing any unwanted vibrations, it also drives the water pump and timing chain. 
CRANKCASE
Low in weight and super-strong, the new crankcases have a thin-wall design, which is made possible by using a high-pressure die cast production process. Within the crankcases, all moving parts are positioned to centralize mass. This plays a big role in making this bike a blast to ride!
CRANKSHAFT
Buried deep inside the EC 350F motor, the crankshaft is key to driving the extremely high-speed moving parts inside the engine, which in turn unleash the motor's unrivalled power. Additionally, thanks to an oil feed that ensures enhanced engine durability, the EC 350F offers long, 135-hour crankshaft service intervals.
DDS CLUTCH
Using a compact design to deliver better action and improved durability, the EC 350F uses a Dampened Diaphragm Steel (DDS) clutch, together with a hydraulic Braktec system. Ensuring riders have total control at all times, a single diaphragm steel pressure plate is used instead of traditional coil springs, which together with a damping system delivers better traction and durability.
TRANSMISSION
A new, enduro-specific, 6-speed wide-ratio Pankl Racing Systems transmission is super durable and reliable, and allows you to take on both the slowest and fastest types of terrain in total confidence. The transmission is now even easier to shift thanks to a few refinements to the shifting mechanism while a new gear lever prevents dirt from building up.
BRAKTEC BRAKES
Fast is fun but quite often in enduro, you'll need to slow down in a real hurry! This is precisely why all GASGAS enduro bikes are fitted with the latest high quality BRAKTEC brake calipers and controls. With a 260mm disk up front and a 220mm disk at the rear, braking performance is seriously impressive, which inspires riders to push harder, ride faster, and brake later.
BRAKTEC HYDRAULIC CLUTCH
The Braktec hydraulic clutch system we fit to all GASGAS enduro bikes provides even wear, near maintenance-free operation, and perfect action – even in the toughest of enduro conditions. It's also extremely light, which means less fatigue, especially through technical sections. Free play is constantly adjusted to ensure the biting point never changes and for 2024, there's a redesigned lever for a little bit more comfort.
RADIATORS
A cool running motor is a well performing motor, which is why all GASGAS enduro bikes feature a cooling system designed for maximum efficiency. It also eliminates the need for additional hoses while the slim design of the radiators ensures a narrower bike with class-leading ergonomics. Expertly crafted using high strength aluminum, the radiators are mounted close to the center of gravity for the best possible handling.
WHEELS
Built to take a beating, our wheels are ready to play rough. No matter how heavy the landing or how rough the track is, the silver, CNC machined hubs, lightweight spokes, and high-strength EXCEL rims deliver maximum strength and durability for complete peace of mind. 
TIRES
One of the only components carried over from the outgoing generation of GASGAS enduro bikes are the Maxxis MaxxEnduro tires. Need to know why? Because they work so well on a wide variety of terrain and they're super-durable too. After all, who likes changing tires?
LED LIGHT
Rounding out the changes to the updated bodywork is the all-new LED headlight. Brighter by almost 3 times, it really lights the way when day turns to night. And should either the mask or light get damaged, the new two-piece design lets you replace only what's broken.
ENGINE MANAGEMENT SYSTEM
Small, light, and fast at processing data! The Engine Management System is constantly measuring, calculating, and optimizing how the motor is running and adjusts accordingly, which means you can focus on the trail ahead. After all, that's what enduro is all about, right? Plus, as crashes are part and parcel of riding offroad, there's a new rollover sensor that stops the motor if the bike goes upside down, which in enduro can, and often does, happen!
THROTTLE BODY
We use a 42mm Keihin unit on our 4-strokes enduro bikes. On the EC 350F, immediate throttle response is guaranteed due to the throttle cable being mounted directly without using a linkage. Additionally, the throttle body injector is positioned to deliver the most efficient flow into the combustion chamber, which ensures the very best performance.
MAP SELECT SWITCH
Sometimes in enduro, you'll want a different style of power delivery, depending on the terrain or just because you like to set your bike up a certain way. Our redesigned Map Select Switch, available now from your local GASGAS dealer, makes that possible. Offering Traction Control for maximum grip on slippery terrain, there's also the Quickshifter that makes sure you never miss an all-important upshift. Plus, there're two maps to choose from. Map 1 is mellow, and Map 2 is more direct. The Map Select Switch is super easy to fit and really spices up enduro for riders of all abilities.
OCU
Simplifying everything electrical, the new Offroad Control Unit replaces all the old school relays and fuses. You'll find the OCU under the seat to keep it safe and sound and in the unlikely event that an electrical component on the bike registers a problem, a corresponding LED changes from green to red. This way, you can quickly diagnose the issue, get it sorted, then get back to riding!
HAPPY BUTTON
The best invention since the wheel! With an electric starter fitted, this GASGAS starts super easily every single time you hit that start button. Using a Li-Ion battery, which weighs approx. 1kg less than a conventional lead battery, we can offer the convenience of electric starting while also keeping overall bike weight to a minimum. It's a win, win for everyone!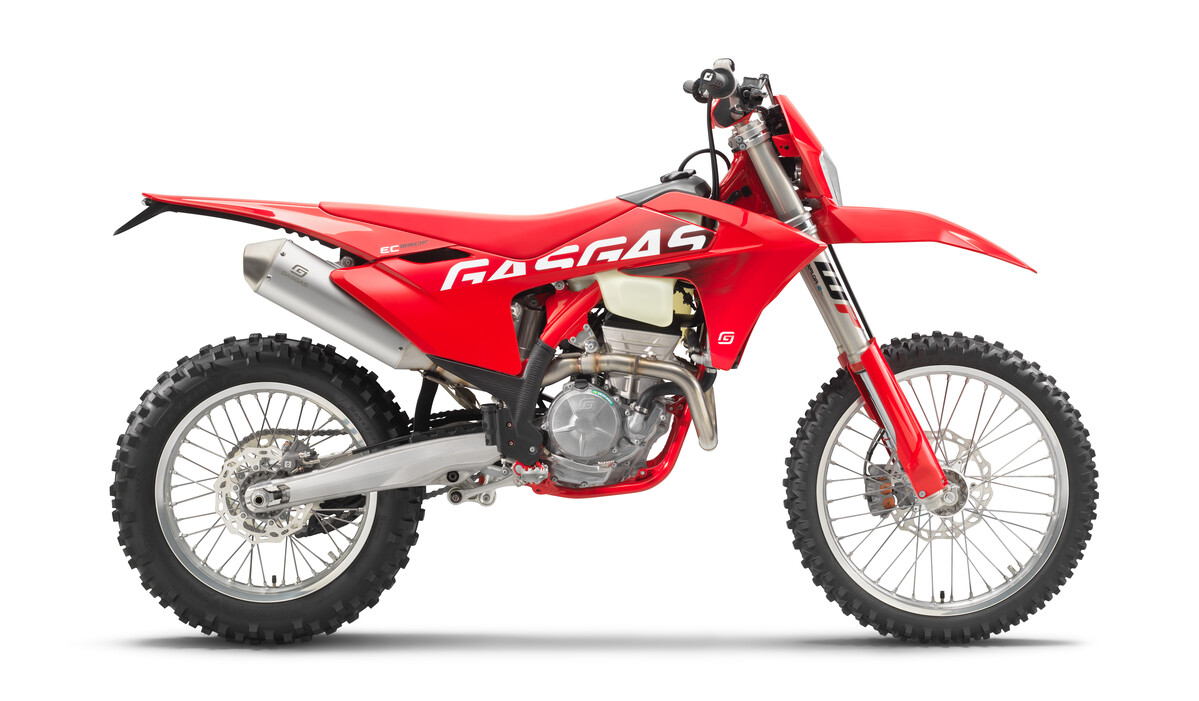 Brand Name
Product Name
Price
Product Availability